Tsim Sha Tsui is the cultural centre of Hong Kong known for it's vibrant nightlife where you can find everything from street vendors to luxury malls.
This eclectic mix of city and street was exactly what we wanted to see during our time in Hong Kong, so we chose the hotel that was in the heart of it all – Hotel ICON.
---
Where to stay in Kowloon, Hong Kong: Hotel ICON
Hotel ICON is an upscale one of the top ranked hotels in Hong Kong for luxury and value. It's also one of the most stylish hotels, defined by its sweeping staircase and grand vertical gardens, it's clear that every corner of the hotel has been designed for guests to enjoy the daylight and catch the skyline view.
---
Getting there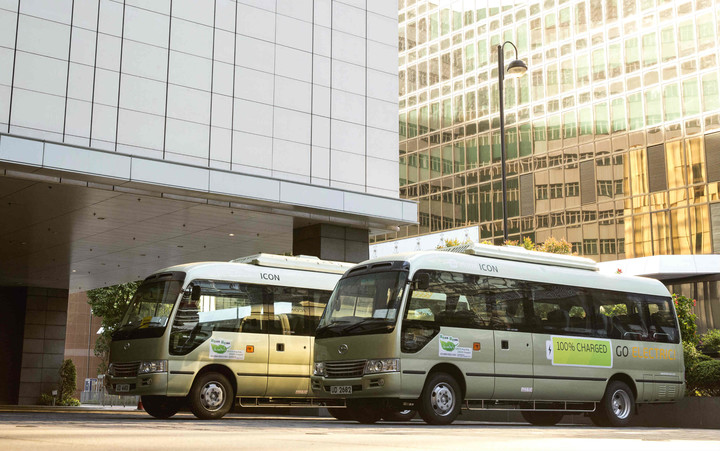 After two long flights to get to Hong Kong, we were both so relieved to be able to take the complimentary Airport Express Shuttle Bus (Route number K3) from the International Airport. The shuttle runs every 12 minutes and takes around 20 minutes to arrive right at the doorstep of the hotel.
---
Location
Once we arrived at the hotel, we were told there was also a complimentary shuttle service between the hotel, Middle Road and The Sun Arcade (Hong Kong's main shopping arcade) which runs every 20 to 40 minutes.
During most of our stay, we used either the shuttle service or the MTR (train) which is an easy 5 minute walk from the hotel.
---
View
A trip to Hong Kong would not be complete without experiencing the skyline view… and what better way to do it than from the comfort of your own hotel room!
We stayed in the ICON 36 City Room and immediately rushed to the window as soon as we checked-in.
Then after the sun set, the view transformed into twinkling City lights and the skyline completely changed but in the best way.
---
Comfort & Design
There are so many parts of our ICON 36 City Room that was so well thought out and executed.
The room can be booked with either a twin or King bed. Our comfortable king bed was facing the skyline and waking up to the view was one of our favourite ways to greet the day.
The bathroom is extremely spacious and stocked with the best skin-loving products from APPELLES – our favourite natural brand for sensitive skin.
The mini bar was complimentary and restocked daily so we were never short on snacks and drinks.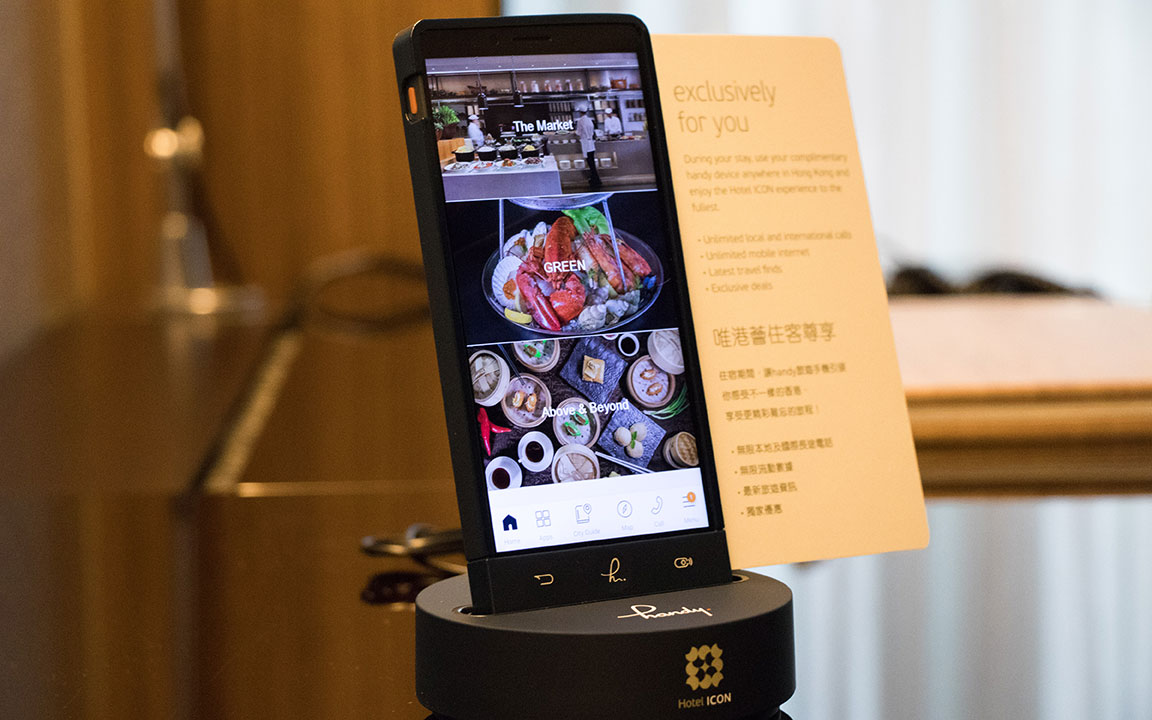 Internet connection was also complimentary and unrestricted and every room came with a Handy Phone – a smart device with a 4G network for hotel guests to guide themselves around the City and make international and free local calls (so you don't even need to switch on your data roaming or purchase a SIM card to get around).
---
Staff & Service
If there were any extra services you required around the hotel or just in general, such as, making dinner reservations, theme park tickets or even public transport passes – the staff at Hotel ICON are extremely helpful and the concierge desk will look after everything for you.
The hotel is actually also a training centre for a Hotel Management School which explains why the service here was unlike no other.
---
Breakfast
The Breakfast Buffet at Hotel ICON was one of our favourite things about the hotel. With so much to offer, the breakfast buffet is split into 4 main sections: Bread & Pastries, Salads & Cold Cuts, Drinks & Juicing Station and the Main Breakfast Buffet.
The food here is simply DIVINE. There is a mix of local and continental style dishes with our favourites being the Dim Sum selections and Noodle Station in the Main Buffet area.
One of our favourite treats in Hong Kong are custard buns and we had more than a fair share of freshly steamed custard buns every breakfast so make sure you don't miss out on those! The quality is just as good or even better than the ones locals line-up for in the food markets (unfortunately we were too excited to eat them that we forgot to take pictures of them, but we promise they're great!).
---
Swimming Pool & Gym
If the skyline view from the bedroom is not enough, simply make your way to the rooftop swimming pool and choose a sun bed to soak in the view.
Despite some overcast days while we were in Hong Kong, humidity was still through the roof so we made good use of the swimming pool while we were there.
There are also spa and gym facilities right next to the rooftop swimming pool and lounge area allowing guests to completely unwind despite being in the heart of the bustling City.
---
Overall, our experience at Hotel ICON was extremely comfortable and enjoyable. Both Will and I have visited Hong Kong many times and can easily say that this was the best hotel experience we've had in Hong Kong and highly recommend it as your hotel of choice next time you're in the area.