Quick Summary
5 Star Hotel on the Palm, Dubai
1,539 Rooms, 3,000 Staff, 5,000 Guests
23 Restaurants including Celebrity Restaurants & Buffet Breakfast
2 Swimming Pools, Private Beach, Aquaventure Park
Lost Chambers Aquarium, Dolphin Bay, Sea Lion Point
Bowling, Shopping, Fitness Centre, Kids Activities
---
Background
The Palm is a man-made island in Dubai and Atlantis The Palm is the second biggest hotel located on this panoramic apex.
This 23 level luxury resort has a mythical namesake (a city sunk by Greek gods) and this theme echoes throughout its acres of hotel grounds and Aquaventure Waterpark. It's easy to see why many refer to this as "The Lost City" and we couldn't wait to get ourselves lost within these walls!
Keep reading for our hotel review of Atlantis The Palm based on our 3 day stay here in July 2019.
---
Getting there
From Dubai Airport, we recommend taking a taxi or an Uber to the hotel, either of these options will cost you somewhere between $30 – 40 AUD and takes around 30 – 40 mins.
There is also the bus or Monorail (approx $12 AUD per person) but if you're travelling with another person, it works out to be the same price or even cheaper when you catch the taxi. It also saves you from having to transport all your luggage around.
---
Location
Although the Atlantis The Palm is about 30 minutes from the airport and 10 minutes from the mainland and top tourist sites. Unlike other hotels, this is a destination hotel designed with the best activities, restaurants, shops, bars, pools and a private 7 mile stretch of beach that guests don't need to leave the hotel grounds.
Here's a drone photo that just shows you the sheer size of the hotel in relation to The Palm. YUP that castle right in the centre there – thats the hotel!
During our stay here, we left Atlantis only once to attend our Desert Safari Tour but for the remainder of our stay, we had so many things to keep us entertained that we would have loved to stay even longer to do all the activities and explore all the restaurants.
---
The Hotel Room
We were really excited to stay in The Palm King Room with the iconic view of The Palm and the following room facilities:
1 x King Bed (or 2 x Queen Beds)
1 Bathroom
View or partial view of The Palm
Complimentary and reliable WiFi
Cable TV
In-room dining available & mini-bar
In-room safe
Hair dryer & ironing facilities
Hotel robe & slippers
The king bed was incredible comfortable, the room was very spacious and clean. We had so much space to stretch out our luggage on either ends of the room and the bathroom had 2 sinks, vanity mirror, shower and bath tub so it's more than enough space for 2 people and is also suitable for families.
Our favourite feature of the room however, was definitely the view from our balcony. We had a panoramic view of the Dubai Skyline and the Arabian Sea and at sunset it just took our breath away.
During our stay here, the price of this room was approximately $730 AUD per night for 2 adults with breakfast and access to the Aquaventure Waterpark and The Lost Chambers Aquarium included.
However, prices may vary depending on the season and number of guests.
---
Activities
There are so many activities to do at the hotel but we didn't get to do them all so this blog post will just cover the activities we were able to experience. However, if you would like a full list of the activities you can visit the 'Things to Do' page here.
The Lost Chambers Aquarium
Many tourists visiting Dubai, regardless of where they're staying, will drop by to Atlantis The Palm to experience the famous Lost Chambers Aquarium.
To give you an idea of the scale of this aquarium – back home in Sydney, our largest aquarium has just over 13,000 fish… now consider, the aquarium at Atlantis has over 65,000. Mind. Blown.
The aquarium does get quite busy during the day, however, if you're a guest at the hotel you can make your way there when it opens at 10am for a quieter experience which is exactly what we did. The aquarium closes at 10pm so a late night visit might be less crowded also.
If you're not a guest at the hotel, the entry fees are:
AED 85 for Adults & AED 65 for Kids who are UAE residents
AED 135 for Adults & AED 95 for Kids who are non-residents
Aquaventure Waterpark
Now you might think at first that the water park is something for the little ones – but we had a BLAST there and would recommend it for adults too.
Within this 42 acres of water park is:
Over 30 slides and attractions
2.3 km of interconnected 'rivers' with rapids
Wave water rider
Kids Paradise Splasher Island
Our last afternoon at Atlantis was a scorcher so we picked up our wristbands and grabbed a two person float to cruise along the 1.6km long Rapids River. Once we were ready for adventure, we slid down a few tube slides, including one that runs underneath part of the aquarium. We didn't expect to have so much fun and wish we explored the waterpark sooner!
The entry price of the waterpark changes seasonally but you can view the up to date price list here (but remember, entrance is free if you're a guest at the hotel).
---
Beach & Pools
The Royal Beach
The private beach at Atlantis The Palm is known as 'The Royal Beach' and is basically like a tropical island meets Disneyland. It's one of the most unique hotel beaches we've ever seen so of course it deserves its own Instagram Post!
The Royal Beach looks out towards the Dubai skyline and is a few steps away from the popular Zero Entry Pool and Royal Pool too.
The climate of the water here is absolutely perfect. We ran right in (no need to acclimatise!) and lost track of time just floating along the beach.
The open hours of Royal Beach are between 8:30am until sunset. The photo taken above was at around 8:30am when the beach had just opened and it was just us and a few lifeguards. What an experience!
Swimming Pools
There are 2 swimming pools at Atlantis, but to be honest, between spending time at the beach and the water park – we didn't really need much pool time to feel satisfied.
If you are looking to just lie on a beach chair and laze in a pool all day though, you'll find solace at The Royal Pool which overlooks the Dubai Skyline and Beach. This pool is open from 8:30am to 8pm.
If you're here with friends or family and you want to splash around with some fun water activities, there's plenty to do at the Zero Entry Pool (and it's close to restaurants too). This pool is open from 8:30am to sunset.
---
Restaurants & Dining
There are a total of 23 restaurants to choose from including celebrity restaurants such as Bread Street by Gordon Ramsay and the famous Japanese Restaurant Nobu (we've celebrated Annie's birthday here before!).
Our review of the restaurants will be based on the three dining options we we tried during our stay, however, if you would like to view the full list of restaurants you can do so here .
Also make sure to organise reservations in advance of your stay to ensure you get a table as seats fill up fast at all restaurants.
Ossiano Bar & Restaurant
Ossiano is the "undersea restaurant and bar" and if you're lucky, you can reserve one of the tables lined up right by the aquarium glass of the Ambassador Lagoon – home to over 65,000 fish.
Although we didn't dine at this seafood restaurant, we did get to enjoy some of their famous (and very photogenic) cocktails at the bar with some of the best bar food we've EVER had …all while stingrays glided by. It was simply majestic and such a unique experience.
Ossiano is the perfect location for special occasions and we highly recommend trying at least a cocktail or two during your stay.
---
Hakkasan
The Hakkasan is an upscale asian restaurant that has been awarded multiple Michelin stars. The menu consists of modern interpretations of cantonese food and is well known for their Peking Duck.
Since Will and I have grown up with asian food, we're always harsh critics when it comes to modernised dishes. We usually like the home cooked flavours and herbs and sometimes a pretty deconstructed version just doesn't hit the mark for us.
But with all the positive things we've heard about Hakkasan, we were definitely excited to give it a try and we surprisingly lovedddddd the flavours of every dish.
We ordered from the A La Carte menu and our favourite dishes were the: vegetarian dim sum platter, tofu and mushroom claypot and of course the signature Peking Duck.
Although the cocktails here were also delicious, we still preferred the inventive and beautiful cocktails at Ossiano Bar. So if you're staying at Atlantis The Palm, we definitely recommend having a few drinks at Ossiano before your dinner reservation at Hakkasan so you can get the best of both worlds.
Saffron Restaurant
Saffron Restaurant is an Asian buffet breakfast with the most impressive spreads we've ever seen in our buffet history. I mean, just LOOK at the chocolate fountain and candy bar!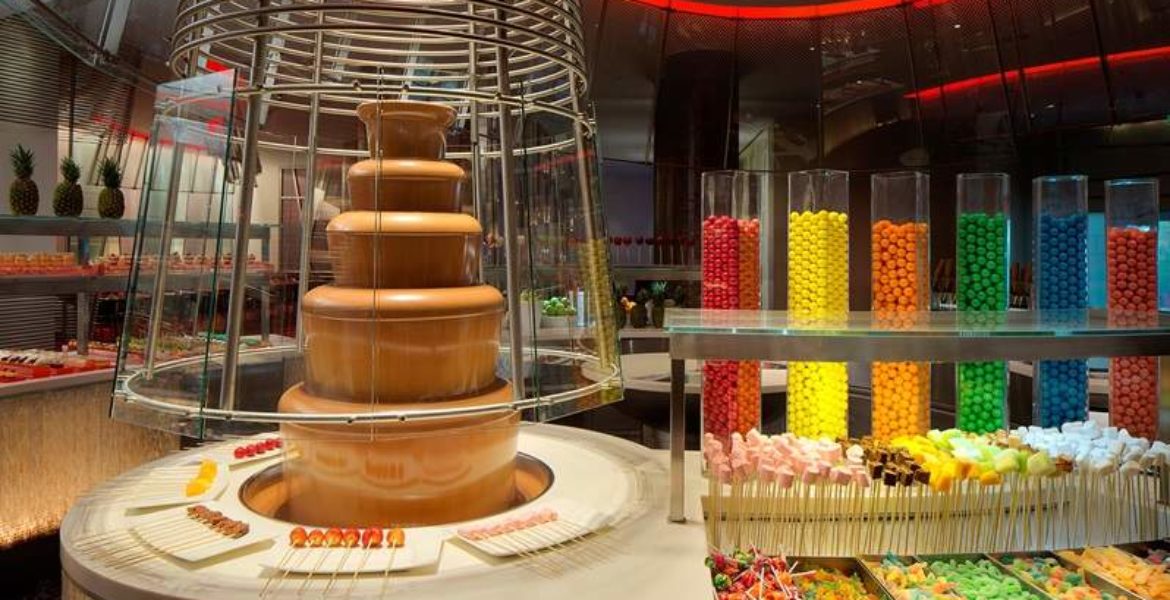 On top of the noodles, dim sum, stir fries, rice, congee and more. There were also continental options for breakfast (we opted for our regular eggs and coffee) and simply every dessert you can think of. Apparently there are a total of 220 dishes available at this breakfast buffet!
Saffron is also open for buffet style brunch. This restaurant is more of a casual restaurant compared to the other dining options we've reviewed so far.
We highly recommend booking the "Breakfast included" options if you stay at this hotel. Otherwise you're looking at AED 535 per person to enjoy this breakfast buffet.
Ayamna Restaurant
Ayamna is an upscale Lebanese Restaurant with a marbled interior that is fit for royalty. We were able to stop by here for a. quick photo opportunity but unfortunately didn't get to dine here. If we had more time we would have definitely loved to because the reviews are absolutely stellar for this restaurant.
Waterpark Restaurant
During our Water park day, we had the chance to try one of the 15 restaurants/kiosks located inside the park.
Barracudas is located inside food court and on the menu were a selection of burgers, wraps, pizzas and middle eastern food. We ordered a falafel salad and a burger which was a satisfying casual lunch before we continued on to the water park.
---
Service
Previously when we've stayed at famous resorts to the magnitude of Atlantis The Palm, we don't often get much interaction with staff due to the sheer quantity of people they have to tend to.
However, we felt that the staff members here were always extremely attentive and helpful. They made our stay such a breeze despite how many times we asked for directions and requested for towels and amenities. We can't thank them enough!
---
Summary
As a couple experiencing a resort that is primarily family orientated. We were extremely happy with our stay and still managed to make it a romantic honeymoon getaway. We absolutely loved the beach, the view from our room and aquarium still amazed us no matter how many times we saw it. There's definitely something for everyone here and we would definitely consider returning again.