Aruba has quickly become an Instagram sensation mostly thanks to their famous flamingos.
But before you book your flight to Aruba expecting all the beaches on the island to be full of flamingos – you might be surprised to know that they are only located on one small private island owned by Renaissance Hotel in Aruba.
Based on our visit to Aruba in July 2019. This is our full guide on how to visit Flamingo Beach and the best time to see them.
---
How to access Flamingo Beach
To get to Flamingo Beach, you have to take the boat located at the dock inside Renaissance Aruba Resort & Casino in between the escalators and Starbucks.
The boats run every 15 minutes from 7am to 7pm and can fit around 20 people per ride and there are only 2 ways you can access the boat:
Option 1: Stay at the hotel
During our time in Aruba, we chose to stay at Renaissance Aruba Resort & Casino so we could have a guaranteed visit to the private island as well as visit at least twice during our time there so we could make most of both beaches on the island (yep, there are two beaches!).
There are actually 2 types of Renaissance hotels you can choose from in Aruba, both of which give you access to Flamingo Beach:
Renaissance Aruba Resort & Casino: This is located near the marina and is more like a hotel. It doesn't have a beach front but is in the heart of the City and has a private pool.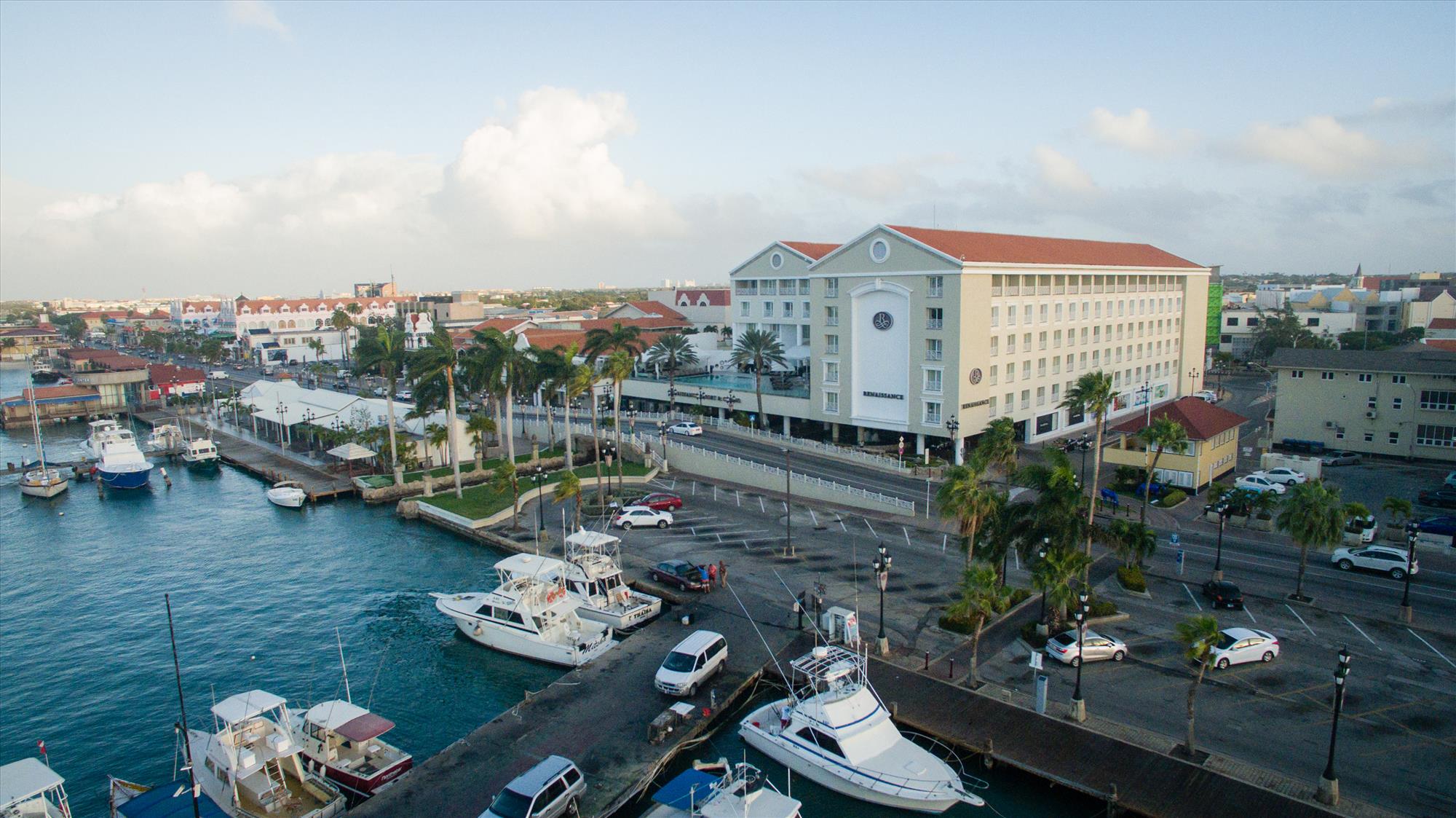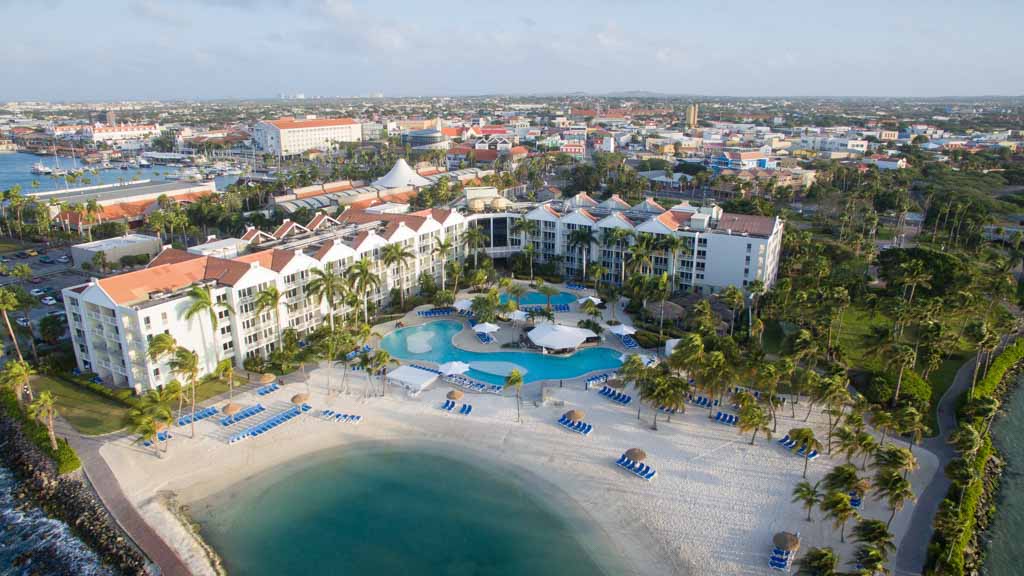 Option 2: Purchase a day pass
Non-guests must purchase a ticket to access the Flamingo Beach for 1 day only which costs around $125 USD per person.
The passes can be purchased online, however, there is a limited number of passes available daily and they usually sell out within minutes of being posted online at 7AM (rumour has it that there are only about 20 tickets daily if the hotel has 80% occupancy).
If you're planning to stay in Aruba for a few days, try to purchase the tickets online early on in your trip to avoid disappointment and give you more chances of getting a ticket.
---
Best time to visit Flamingo Beach
After visiting Flamingo Beach multiple times at different hours of the day during our time in Aruba, we concur that the best time to head to Flamingo Beach is on the first boat ride at 7am. Here are the reasons why:
Around 7am most people are still asleep or having breakfast, so getting there early gives you a bit more alone time with the flamingos
The flamingos like to nap in the afternoon so it's better to see them when they're active and happy to interact with you
Children are only allowed on the Flamingo Beach between 9-10 am so this is around the time when it gets very busy
By getting there early, you have the entire day to spend with the flamingos and can do it at a leisurely pace. Afterall, you can all the way to Aruba to see them so make most of it!
---
How do I take photos with the flamingos?
Once you hop off the boat, the jetty splits into two:
Turn left: For Iguana Beach
Turn right: For Flamingo Beach
The iguanas generally come out later in the afternoon so if you're there at 7am like we suggested, we highly recommend to turn right and head straight for Flamingo Beach.
You'll know you're going in the right direction when you come across this sign here:
Step 2: Get food for flamingos from the dispenser (optional)
Right after the sign you'll find a dispenser on your right with flamingo food. If you have a quarter you'll be able to get some food, however, we had no coins on us and just headed straight to the beach and the flamingos came around anyway.
However, the flamingos are funny characters and will take a liking to some people more than others. So if you really want their attention then you can always purchase some food from the dispenser to increase your encounters.
Step 3: Stay calm and don't chase them
Although these flamingos are used to daily human interaction, most of the time they tend to walk away from people that are actively following/chasing them around.
Instead, we just found a clear section on the beach and patiently waited until they headed in our direction. When they came our way we just enjoyed their presence instead of attempting to touch or tease them so that they wouldn't run away.
Every now and then the flamingos will also make their way up the shore. If they are standing close to the shower, they're most likely looking for fresh water to drink and they LOVE the shower water. We turned on the shower for one flamingo and they all came flocking over.
Step 4: Relax
After you've had a chance to encounter the flamingos, give other people a chance to do the same and just enjoy the private island.
Make your way over to the other side of the jetty (towards iguana beach) and grab a towel from the towel station then reserve a beach chair on Iguana Beach.
Why should you reserve a chair on Iguana Beach instead of Flamingo Beach? Let us break down the difference between the two beaches for you below so you can decide where to reserve your spot.
---
Which beach is better?
As we mentioned earlier, there are 2 beaches on the private island. Both beaches have beautiful palm trees, plenty of beach chairs and umbrellas as well as bungalows with overwater hammocks (although these are only available for rent).
But as a general guide for first time visitors, here is a quick summary of the difference between the two:
Beach 1: Flamingo Beach
Flamingos hang around this beach all day
Kids can only access this beach between 9 – 10am
Due to the flamingos, this beach is much more crowded
No water sports can take place here in order to not disturb the flamingos. However, you can use pool floats if you like.
The sand along the shoreline is quite rocky and can be sharp.
There are more hammocks available on this beach
There is only a bar located on this beach
Beach 2: Iguana Beach
Iguanas hang around the beach in the late afternoon
Kids can access this beach same time as adults
Water activities (e.g snorkelling, paddle boarding, kayaking) are available here since the iguanas just like to stay on the sand
There is a large sand bar on this beach which we really loved… and fell asleep on
The sand here is less rocky and softer on the feet
The restaurant, restrooms, towel and watersports station is all located on this side
Although we've mentioned that Flamingo Beach is more crowded, keep in mind that due to the hotel limiting the number of day passes to the private island, it's definitely not crowded like a public beach and both sides are still enjoyable.
---
How do I see the iguanas?
After leaving Flamingo Beach towards Iguana Beach, you'll need to pass this section here (before you reach the towel station) where the iguanas like to sunbake during the afternoon.
There were also a few times where we fell asleep on Iguana Beach and woke up to one just hanging out right next to us. They're super cute and very gentle so don't be alarmed at all when they silently crawl over!
---
Summary
So if you're planning to see the flamingos in Aruba, make sure to plan ahead by either booking a stay at the hotel or purchasing tickets online. Either of these options will require you to do it as far in advance as you can as both sell out quite quickly.
Get to the flamingo beach via the first boat ride (starts at 7am) and spend the whole day there as well as see the iguanas on the other beach!
This was such an incredible experience that we highly HIGHLY recommend for everyone to add it to their bucket list!!