Where to stay in Sydney, Australia
Being a Sydney-sider myself, I get asked for recommendations on where to stay in Sydney all the time, but each Sydney location has its own perks and it all comes down to what's best suited to your travel style and the sights you want to see.
Keep reading this blog post as I break down my favourite places to stay in the main areas of Sydney and what they have to offer in terms of the following:
Hotel features: The rooms, view, dining, pool and gym facilities.
Location: How to get around by car, public transport or by foot.
Things to see & do: The main attractions close to the hotel that set it apart from the rest.
---
If it's your first time visiting Sydney, you'll want to base yourself somewhere right in the heart of the city – close to all the city walks, attractions, shopping centres and world famous restaurants.
The Pullman Quay Grand Sydney Harbour Hotel is pretty much a no-brainer and was immediately the first hotel that came to mind. It has one of the most iconic hotel views overlooking Sydney's Circular Quay, which means you could quite literally wake up like this:
With romantic views and suite-style rooms, the hotel is extremely popular for couples as a honeymoon or wedding proposal location. It's central position also makes it convenient for families that need to get around with ease (eg with a pram) there's also a babysitting service available upon request.
Hotel Features
The Room
When you walk into your room at the Pullman Quay Grand Sydney Harbour, you'll find yourself saying "Is this a hotel room… or a house?!" Each room is a modern and luxurious self-contained apartment with everything you need from a fully equipped kitchen, laundry, lounge and dining area, balcony and spa bath.
But the most impressive feature (for me anyway) by far, would have to be bedroom view. Imagine waking up on a cloud-like bed with this view of the Sydney Harbour Bridge …or better yet, imagine doing that during the New Year's Fireworks!!!
And I'm not the only one impressed by this hotel, based on over 6,366 reviews on AccorHotels and 1,733 reviews on Tripadvisor.
So it's definitely up there on the best places to stay in Sydney. If you're planning to book this hotel, it's a good idea to secure your room in advance because during the high season it's almost always booked out.
Dining
If you love your room too much, then the in-room dining menu is always an option. But let me try to entice you with some visual aid to the following two Sydney hotspots (for tourists AND locals) that are right at your hotel door:
Hacienda Sydney: This vista bar is pretty, floral , has great music and serves the tastiest Cuban-inspired cocktails against stunning Sydney harbour views. Besides being an Instagrammers' dream, it's also a popular spot for locals to enjoy after-work and weekend drinks. But while the rest of us are tied up at work during the weekdays, tourists should definitely take full advantage of the lunch menu at Hacienda!
Q-Dining: People say this is where "the land meets the sea" and they're not wrong. This fine dining restaurant is the epitome of modern Australian cuisine with a head chef that has over a decade of 5-star hotel and fine dining experience (so you know you're in good hands). It's definitely more of an upscale restaurant so it'sa 'treat yourself' kind of place that's open breakfast, high tea and dinner. The food here tastes as good as it looks and the high tea platters are VERY generous.
Pool & Gym
The Pullman Quay Grand is the only Sydney hotel that offers morning yoga sessions' on selected days, with panoramic views of the harbour, it's pretty much a yogis' dream come true!
There's also a gym, sauna, indoor pool and hot tub, but I've got to say – the yoga room is the impressive part of the fitness centre.
Location
When arriving at the International Airport Terminal, the Pullman Quay Grand Sydney Harbour is just an express train ride away (or a 30 minute cab ride).
Once you arrive, you're walking distance from Circular Quay Station and Ferry Wharf (5 minute walk) and the Rocks District (10 minute walk) which means you've pretty much got the best of Sydney at your doorstep.
If you prefer to explore Sydney by car, the hotel offers valet service and 24-hour front desk service too.
Things to see & do in Sydney and surrounds
Now with the trains, buses and cabs being very accessible – your options on things to see and do around Sydney are endless. But I'll take this opportunity to list the main tourist attractions you can visit by foot and by ferry that make this place unique.
By Foot
The following attractions are within walking distance from the hotel:
Royal Botanic Gardens (1 minute walk): This is Sydney's oldest botanic garden that transports you away from the hustle and bustle of the city. In the high season, the Gardens glisten with native and exotic plants which makes it a really beautiful picnic spot.
I highly recommend also visiting The Calyx building (inside the Gardens, next to the Morshead Fountain Gate) which is a free flower display and Garden Party venue. Even as a Sydney local, I'm in awe of The Calyx each time I visit!
Sydney Opera House (5 minute walk): If you search up the top things to see in Sydney, you'll undoubtedly see pictures of the majestic Sydney Opera House. It's one of the world's most recognisable buildings and the City's very own UNESCO World Heritage Site.

You can either enter the Opera House as part of a guided tour, book tickets to watch a show playing inside the concert halls, enjoy fine-dining at the Bennelong Restaurant (also inside the Opera House) or soak in the view with casual drinks at Opera Bar.

Either way, if it's your first time visiting the city, I highly recommend putting this to the top of your list because as the age old question begs: If you go to Sydney without seeing the Opera House – did you really go at all?
The Rocks (10 minute walk): The Rocks has unique cobblestone laneways and historic buildings filled with super eclectic restaurants, breweries and clubs. The atmosphere here is so lively and fun and every weekend you can head here for The Rocks Markets. I've got a list of must-do things in The Rocks area but I'll save them for the last section of this blog where I talk about the Harbour Rocks Hotel Sydney.
Sydney Harbour Bridge (13 minute walk): The Sydney Harbour Bridge can either be an iconic landmark to admire from afar or an unforgettable climbing experience. In 2016, Will and I climbed the Sydney Harbour Bridge at nighttime during the VIVID Lights Festival in Sydney. This is an annual winter event where light installations light up Sydney harbour and the view from above was incredible, it was one of the best things we've done in our home town!
By Ferry
The following attractions are part of the ferry routes available from the Circular Quay Wharf:
Manly: The ferry ride from Circular Quay Wharf to Manly gives you front-row seats to the Opera House, Harbour Bridge and Mrs Macquarie's Chair while you make your way to one of the most famous beaches in the Harbour City. Besides surfing and swimming, one of my favourite activities to do in the area is the 10km Manly to Spit Walk which takes you through Fisher Bay, Forty Baskets Beach and Sandy Bay.
Luna Park: Sydney's most iconic amusement park located in North Sydney. This place was built in the 1930's and is now a heritage listed sight with classic rides, sideshow games and food for the family. As an adult in my late 20's, I can't say I'm too excited about the rides and games here at the park, but as a photography and wedding venue, it is truly spectacular. They also seasonally offer "dining on the ferris wheel" which is a romantic date night option for the lovebirds out there.
Taronga Zoo Sydney: Located along the shores of Sydney is Taronga Zoo. The zoo has been around since 1916 and it continues to be the best place to meet Australia's beloved koalas. Not many people know this, but Taronga Zoo is actually a not for profit and every Zoo ticket, helps the zoo ensure a better future for the wildlife. So not only do you get to see some native Australian animals, you're helping them too.
Cockatoo Island: This island is an UNESCO World Heritage Site where visitors can enjoy a unique day-trip experience. Tourists can take an audio tour on the island to learn about its convict precincts, or if you're looking for something a bit more thrilling you can take a Haunted History Tour around the jail , Dog Leg Tunnel and workshops on the island.
So in a nutshell, the best place to stay in Sydney for the key tourist attractions like the Opera House, Harbour Bridge, The Rocks and all places reachable by ferry or train would be Pullman Quay Grand Sydney Harbour.
Let's move on to the next location, Darling Harbour.
---
Despite it being a new hotel, Sofitel Sydney Darling Harbour is a French inspired beauty and is already being hailed as 'Sydney's most instagrammed hotel' because of its photogenic location along Cockle Bay Wharf and as Darling Harbour's tallest building.
Cockle Bay Wharf is pretty much one of the newest tourist meccas of Sydney and is closer to all the family-friendly attractions which makes it great for families with young ones. As a Luxe hotel is generally more attractive to couples (families tend to select Novotel Sydney on Darling Harbour)
Hotel Features
The Room
It's not often that I'll say this …but the hotel bathroom pretty much looks like a swanky movie set and it's one of my favourite features of this hotel.
The views of the Sydney skyline from the bedroom and bathroom are simply magical and anchors you in a prime position for the 9pm fireworks that run every Saturday from October.
Based on the incredible amount of positive reviews on accorhotels.com and TripAdvisor, it looks like another winning hotel located in Sydney.
Dining
Atelier by Sofitel: Atelier is a French inspired restaurant known for their 'French twist' on high tea. The high tea experience here includes French pastries, choux, madeleines and pastel macarons as well as a selection of savoury snacks and free-flowing tea and coffee – oh and not to mention, the Sydney Harbour view of course.

Champagne Bar: This bar is located on the third floor of the hotel which showcases some of the world's finest champagne, artisan mixed cocktails and oysters.
Esprit Noir: This bar is located on the ground floor and is a great spot for casual meetings. If you visit the bar before noon you can choose from their selection of croissants, otherwise cocktail hour awaits you in the evening.
Le Rivage Pool Bar: The pool is strictly for guests only which means you can enjoy Sydney's best hotel infinity pool at your own leisure when you stay at the Sofitel Sydney Darling Harbour.
When comparing these hotel-dining options to the Pulllman Quay Grand Sydney, I prefer the dining options the Pullman has to choose from. However, staying at Sofitel Sydney Darling Harbour allows you to easily walk along Cockle Bay Wharf or Harbourside and enjoy the surrounding restaurants.
Pool & Gym
Now this is what sets the Sofitel Sydney Darling Harbour apart from the rest – it's a beautiful infinity pool. The Le Rivage Pool located on the rooftop has been listed time and time again as "Sydney's Best Rooftop Pools" because of its perfect panorama of the harbour and cityscape.
On level 4 there's also a gym that overlooks the same view with all the latest cardio machines and free weight section that's open 24/7…. but that view though…!!!
Location
The hotel is great for anyone that is attending an event in the International Convention Centre Sydney (ICC) centre or wants to roam around Darling Square and Pitt Street shops.
You can also access transport from Darling Harbour Wharf to key spots including the Sydney Harbour Bridge, Opera House and Circular Quay (so you can do all the activities I mentioned in the previous hotel).
However, it's a bit further away from the train station than the Pullman Quay Grand Sydney Harbour.
Things to see & do in Darling Harbour and surrounds
By Foot
IMAX Theatre Sydney (2 minute walk): Although the theatre is currently under renovation (due to reopen in 2019-2020). This is the World's Largest Cinema Screen with 2D and 3D screenings which is definitely worth a mention. Once it reopens its doors, it's a memorable cinema experience for all ages.

Harbourside Shopping Centre (6 minute walk): There are plenty of well-known restaurants here as well as a casual food court and a shopping plaza. A lot of tourists visit the centre for souvenirs and the lolly shop that has been around for over 20 years, but it doesn't really beat shopping around Westfield Sydney or Pitt St which is an easy walk and train ride away too.

Cockle Bay Wharf (10 minute walk): The wharf is an exciting and fun precinct of waterside dining and nightlife options. The popular bars around the area include Bungalow 8, Chinese Laundry and Home The Venue (if you're into partying) and for those that are just after a culinary experience, you can enjoy an array of great restaurants and cafes including: Cafe Del Mar, Zaafran, The Malaya and Fratelli Fresh.
Chinese Garden of Friendship (10 minute walk): Take a mini trip to China at the Chinese Garden of Friendship which is a little "quiet oasis" of bridges, lakes and waterfalls. This is a nice peaceful activity to unwind from the bustle of the city while learning about Chinese heritage and culture at the same time.
SEA LIFE Sydney Aquarium (10 minute walk): This is the largest Great Barrier Reef exhibit in the world with over 13,000 animals including turtles, sharks, penguins and adorable dugongs. This is a great family activity and is definitely pram friendly, and for couples that want a romantic experience you can actually book an underwater dinner here too!
Madame Tussauds (10 minute walk): After visiting the SEA LIFE Sydney Aquarium, you might as well pop next door to Madame Tussauds for wax figures of the most famous and influential people around the world. What's different about the Madame Tussauds in Sydney is that you can meet the wax figures of the Aussies that shaped the country and learn more about Australian History.
By Ferry
All the attractions that are accessible by ferry from Circular Quay Wharf are also available from Darling Harbour. Including:
Manly
Mosman
Parramatta River
The queue for ferry tickets is definitely shorter around Darling Harbour than it is at Circular Quay and you also get all the benefits of the same ferry stops.
Overall, the attractions that are within walking distance from the hotel makes it a great place to stay for families and kids or groups of friends that are after a fun night out around Cockle Bay Wharf.
---
The Rocks is the oldest neighbourhood in Sydney city with over 100 heritage sights, buildings, cottages and cobblestone streets right by the waterfront. The first residents of this area were sailors and convicts and decades later it's now transformed into one of the liveliest spots and the Harbour Rocks Hotel Sydney is located right in the heart of it.
Hotel Features
The Room
This hotel definitely has more of a "boutique" feel compared to the Pullman Quay Grand Sydney Harbour and the Sofitel Sydney Darling Harbour. It offers a historic experience, rather than modern luxury and is a charming and convenient place to stay for couples or friends that would enjoy the pubs, restaurants and late night venues around the area.
Dining
My friends and I love the dining options around The Rocks! It was hard to narrow them down but here are a few foods you must try if you're staying around the area:
Creperie Suzette: They have both dessert and savoury crepes and galettes here that transport me to the soul food capitals of France. This place is only open from 7:30am until 3pm so it's a fantastic breakfast and lunch option for hotel guests.
La Renaissance Cafe: Whenever there is a birthday party, I'll travel to The Rocks just to purchase the cakes from here. The croissants are also to die for and it's one of the best French patisseries we have in Sydney.
MCA Cafe & Sculpture: This is a unique Art Gallery Cafe and something you just kind of have to do if you're already visiting the Museum of Contemporary Arts. They have a great selection of drinks and an afternoon menu of delicious graze food with a view.
Quay Restaurant: Peter Gilmore's famous fine dining restaurant that has consistently been in The World's 50 Best Restaurants. I've only been here for special occasions like anniversaries and birthdays and it's honestly such an indulgent experience. If you're lucky enough to book a table on a day where no ships are docking at the Overseas Passenger Terminal, you'll get to enjoy the view of the beautiful Harbour Bridge and Opera House too.

Sake Restaurant: A contemporary upscale sushi restaurant that is known as one of the best Japanese Restaurants in Sydney. If you want to try some of the best sashimi, lobster tacos and sake in town, this is the place to go.
I'd say the dining options around The Rocks is more diverse and dynamic compared to Darling Harbour and it's walking distance from all the main restaurants along Circular Quay too, so it definitely wins in this department.
Pool & Gym
There's no pool here but there is a fitness centre with all your basic cardio and weight equipment. So if a pool is important to you, the Pullman Quay Grand Sydney Harbour and Sofitel Sydney Darling Harbour are the two better options in this department.
If you're not fussed (because you'll be spending your days and nights exploring the surrounds anyway) then this will do the trick.
Things to see & do around The Rocks and surrounds
It's probably worth noting that The Rocks area is walking distance from the Pullman Quay Grand Sydney Harbour, so it offers the same location benefits and things to see and do around the area.
However, I'm going to go ahead and list a few extras that are right next to the hotel that is accessible by foot and worth noting: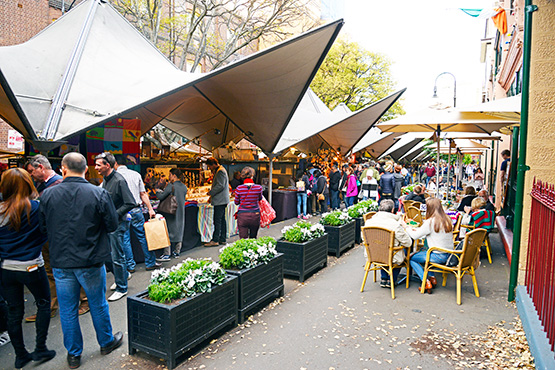 The Rocks Market: I love these markets!! Everything from jewellery, souvenirs, collectables to food – the market is all sorts of fun for couples and families. I love trying all the food stalls especially during special events like the Biennale.

T Galleria: If you're more of a high-end designer shopper, you can enjoy the best luxury brands at this duty-free shopping centre including Cartier, Tiffany & Co, Bvlgari and Burberry.

PANiQ-ROOM: PANiQ is the most popular Escape Room in Sydney and its located right at The Rocks! If you haven't tried an Escape Room before, the "Bunker" and "Supercell" rooms will get you hooked on problem solving your way out of 'live escape rooms'
The Argyle: This is a buzzing nightlife venue with 6 bars inside the two stories of one of Australia's oldest buildings. My friends and I used to come here all the time as soon as the work week was over and it made for some really great memories (or lack thereof should I say)
---
The Conclusion
I know what you're thinking – holy moly that is A LOT to soak in!!! Trust me, it was hard for me to condense it all into one blog post, there are plenty of other locations outside of central Sydney but I thought I would start with my top 3 first so I could give you an overview of the top places to stay in each area.
In summary:
If you have about a week in Sydney, I would recommend changing it up and spending a few days in at least two of the three listed above to get different Sydney experience. But if you're strapped for time, choose a location that is best suited to your travel style.