If you're looking for somewhere with unique and eco-friendly accomodation along the hippy-chic coastline of Tulum then Papaya Playa Project pretty much has it all. Keep reading for our hotel review on the two rooms that we experienced during our stay at this hotel in July 2019.
Quick Summary
Beachfront resort with over 80 rooms/cabanas
Eco-resort with sustainable palapa huts
On-site yoga classes and spa treatments
On-site parking and concierge
On-site kite surfing school and water sports
On-site chapel
Rooms are airy with sockets for charging mobile devices
Many rooms have porches and ocean views
Restaurant and Beach Club bar serves meals and drinks
Bike rentals available
Best suited for couples that enjoy water activities and nightlife
---
Location
Papaya Playa Project is right in the heart of the hotel zone of Tulum and at first glance it was pretty overwhelming trying to narrow down the long list of hotels along this strip but these are the two things that essentially won us over: We listed the main sights and restaurants we wanted to try along the beachfront strip of Tulum and realised that Papaya Playa Project was walking/biking distance from most of these locations including:
Matcha Mama
IK Lab
Nomade Tulum
Ahau Tulum
Casa Malca
Based on this plus being a 10 minute drive away from downtown Tulum, the location of Papaya Playa Project gave us access to the type of Tulum experience that we were after.
---
Parking & Transport
The on-site parking at Papaya Playa Project is inside the resort grounds (closed-off to the public by large gates) so we didn't need to stress about car theft or vandalism.
If you're not planning to hire a car, taxis are extremely accessible and inexpensive in this area and all of them will know exactly where Papaya Playa Project is.
Otherwise, you can always borrow one of Papaya's on-site bikes and enjoy the bike paths around Tulum.
---
Rooms
There are many rooms/suites to choose from at Papaya Playa Project. However, we only experienced 2 types of rooms during our stay so these will be the two we're reviewing:
Casa Arbol (Treehouse)
Casa Arbol is a hideaway in the thick of the jungle that must be accessed via a winding wood carved staircase. Here's what it looks like from above:
It may appear to be a treehouse for two but Casa Arbol is actually a two-story treehouse that houses multiple rooms built on and around a tree. Inside, it's fully equipped with:
5 air-conditioned bedrooms
King Size Bed per room
Private bathroom and shower per room
Private pool
Wifi Connection
Air conditioning
24hr butler service
Hair dryer and ironing facilities
The leisure area of the treehouse has two swinging chairs surrounded by peaceful views of the beach and the jungle.
And if you thought the exterior was photogenic, wait until you see the interior:
The 5 king size bedrooms inside the Casa Arbol are perfect for a group of couples or friends that want a really unique getaway experience in the jungle facing the beach.
---
Jungle Casita with Oceanview Pool
The Jungle Casita is a different experience from the Casa Arbol Treehouse. The treehouse was in a much more secluded area of the resort whereas our Jungle Casita placed us closer to the main restaurant, bar and swimming pool.
Having said that, the two-storey Jungle Casita was perfect for the 2 of us, but could easily fit up to 3 people. It's features include:
1 air-conditioned bedroom
1 King-size bed (or 1 king and 1 twin size bed)
Private rooftop pool
Private bathroom and shower
Wifi Connection
Air conditioning
Hair dryer and ironing facilities
Upstairs on the rooftop you get a bird's eye view of jungle and the ocean in the privacy of your own dipping pool. We used this pool to watch the sunset every night that we stayed at the Jungle Casita which was really lovely!
From an aerial view, you can see here that each of the casitas are separated by the beautiful tropical vegetation:
It's also worth noting here that during our stay in July, we had no issues with any noise or parties at night. However, we've heard that during peak season (especially the Full Moon Party), that the sound of the music and parties may be heard from the casitas so if this is something that concerns you, it's best to check what events are on in advance of your stay.
Inside the Jungle Casita room is a lot of space for 2 people. We had a large king size bed inside an almost cave-like, modern Mayan-inspired room with wardrobe space, plenty of space for our luggage and even a beach bag with towels for us to use throughout the day.
The room has a very open floor plan with the shower and bathroom facilities right behind the bed. So if you're sharing this room with somebody, you should definitely choose someone you're extremely comfortable with because the only door inside the room is the restroom door.
As a couple on our honeymoon, we thought the room was perfect for us and we really loved the wooden/timber accents. There were also signs throughout our room about the importance of the plastic-free and eco-friendly stay which we really appreciated.
Air-conditioning and Wi-fi also worked perfectly from the casitas and the front desk and housekeeping services were always polite and prompt.
---
Food & Drink
There are two main areas for food and drink at Papaya Playa Project:
PPP Restaurant
PPP Restaurant has a double-decker bar and private table areas overlooking the beach, what more could you ask for? We highly recommend making a reservation for sunset hour to catch the beautiful golden light as you try their Mayan and Mexican signature dishes.
PPP Beachclub
PPP Beachclub is a multi-purpose area with beach activities, light food and drinks, accompanied by soulful music from semi-amphitheatre. If you're up for it, you can have a bit of a dance on the sand-floor or just order food and drinks from your serviceable sun beds.
Spa & Extra Facilities
Oceanfront Yoga
Every morning, guests have the opportunity to book in an ocean view Vinyasa yoga class for $15USD per person held at this beautiful oceanfront hut:
It is believed that stretching in the sunlight surrounded by nature sounds creates a sacred space for your body mind and spirit for the most incredible Savassana.
PPP Spa
The spa menu at Papaya Playa Project offers healing massages and indulgent treatments right in the heart of the jungle and away from the city noises.
The spa treatments use organic and natural local ingredients such as coconut, honey, aloe and a special mayan clay.
Temazcal
The Temazcal is a traditional Mayan steam bath that stimulates the lymphatic systems in order to cleanse your respiratory tract and improve blood circulation. This is believed to be the ultimate relaxation experience to renew your body and your mind. We didn't get to experience this during our stay but if we had more time we definitely would have loved to experience the traditional steam bath for sure.
Main Swimming Pools
Besides your own personal pool, there are two main pools and both are located near the restaurants and bars.
We actually spent more time in our own pool than we did in the swimming pools but they're great options if you're enjoying the hotel experience with family or friends.
---
Projects by PPP
Eco-friendliness and Social Responsibility
Papaya Playa Project promotes 'conscious tourism' with a mission to achieve a zero emissions and zero contamination to the community.
One of the things we first noticed about the hotel grounds was how the resort accommodates its natural surroundings instead of destroying it. You can see in the image below that the walk paths make way for the trees that are growing around the area – instead of cutting down the trees, the resort makes room for them to continue to flourish.
Most hotels and resorts would only retain 5-30% of its natural surroundings to make way for the hotel grounds, however, PPP has proudly retained 93% of the original jungle that first inhabited the area.
To help the plants grow, PPP use organic fertilisers and recycled water which has helped grow: cashew nut orchards, banana trees and coconut trees. The hotel plans to extend the plantation with chickoo, papaya, pineapple, guava, jackfruit, breadfruit, banana, cashew, coconut, and watermelon.
The oceanfront suites, huts, beach clubs, restaurants and bars are also all made from eco-friendly indigenous materials using local construction techniques.
Turtle Conservation Program
Each year, from May to October, sea turtles migrate to the beaches of Quintana Roo to lay their eggs along the sandy beaches.
For over 10 years now, Papaya Playa Project has played a major role in local turtle protection program (Programa Local de Protección a la Tortuga Marina) in Tulum.
Tulum is one of the key beach areas of the region so it's extremely important to make it a safe place for the turtles.
This year Papaya Playa has taken it one step further together with Fundación Orígenes Quintana Roo. A.C and the Ecology Directors of the Municipality of Tulum to create the most advanced turtle protection program in the region so far which you'll be able to easily spot all along the beach.
If you're lucky, you might even see one of the turtles go to and from their nests at night – but be sure to give them the space and comfort they need and put away the torches if you see them.
Design Hotels™ Creative Team Transformation
This hotel was actually born as a pop-up in 2011 when the Design Hotels™ creative team completely refurbished the site to transform into a playground for young creatives to express themselves through art which is scattered all around the hotel grounds:
Letras Itinerantes
Letras Itinerantes AC is an organisation that assists indigenous and mestizo communities in Quintana Roo with reading and literacy.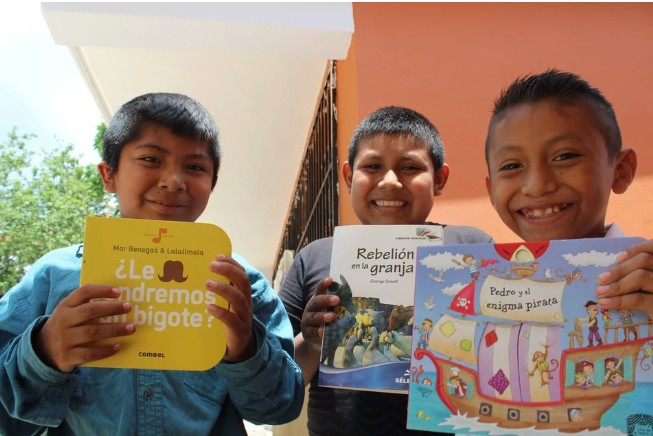 Papaya Playa Project donates resources to assist the organisation in helping as many children and communities as possible.
Overall, Papaya Playa Project has some really great ongoing iniatives to help the community and environment which we love. That paired with their luxury casas, casitas and facilities (that are still eco-friendly!) makes it a very unique and sustainable experience. It's a great option for couples, young travellers and large groups.